January 1, 2021 Update


Greetings and Happy New Year from the NYC Taxi and Limousine Commission.


COVID 19

Getting tested regularly for COVID-19, in addition to wearing masks that cover your nose and mouth, is an important step to keep yourself and the wider NYC Community safe. We were pleased to announce the start of a new website that makes it easier for TLC-Licensees to find COVID-19 testing facilities, located at http://bit.ly/testsiteapp. Using that website, all TLC-Licensees can now easily locate COVID-19 testing centers and choose between drive-thru or walk-in testing locations. All listings provide contact information and a link with directions. We hope that you take advantage of this new feature, and that you share it with other Licensees and Industry members.

As the number of eligible New Yorkers continues to expand, Mayor de Blasio recently announced additional vaccination sites across the five boroughs. Beginning Monday, January 11, vaccine sites will open in partnership with SOMOS Community Care and New York City Fire Department for frontline City workers who qualify for Phase 1B. For eligible individuals under Phase 1A, the first of two 24/7 mass vaccination sites opened on January 10m in the Bronx and Brooklyn, and well as three Vaccination Hubs.

For additional information on COVID-19 Vaccines, please visit:
https://www1.nyc.gov/site/doh/covid/covid-19-vaccines.page.

AVOID VIOLATIONS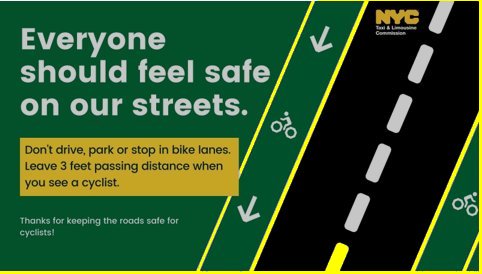 Violations can be difficult, expensive, and time-consuming. Here are some tips to avoid violations and protect your TLC Licensee:

Bike Lanes: Bike lanes ensure that cyclists have a safe and appropriate place to ride on the road. It is illegal to drive, park, or stop in bike lanes or paths. It is important to yield to cyclists when turning, and to leave at least 3 feet passing distance because cyclists may unexpectedly swerve to avoid opening doors or potholes. Please remind passengers to check for cyclists before they open the door. To pass a cyclist, please slow down and stay behind the cyclist until you can safely pass.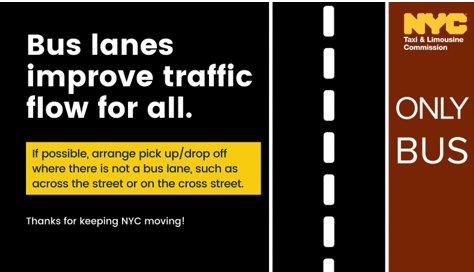 Bus Lanes: Bus lanes keep city buses from getting stuck in traffic, and make travel for bus riders fast and reliable, improving traffic flow overall. There are different types of bus lanes, including curbside and offset bus lanes. A curbside bus lane is when there is a travel lane for buses at the curb. Cars cannot be parked or standing at the curb during the hours that a bus lane is in effect. An offset lane is a travel lane for buses that are one lane away from the curb. Parking or standing at the curb is still possible. Double parking, and stopping of any kind, is not permitted in offset bus lanes. Where possible, pick-up or dropoff where there is not a bus lane, such as across the street or on the cross street.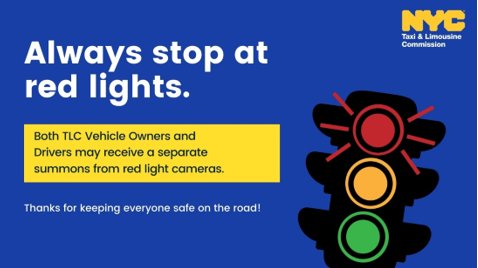 Red Light Cameras: Red light cameras are part of the City's Vision Zero efforts to eliminate traffic- related deaths and serious injuries. Once a light turns red, the camera is automatically activated by sensors picking up the vehicle crossing over the line. If you fail to stop, you may be sent a notice of violation in the mail with the picture of the vehicle driving through the red light. Evidence against thosesummonsed can be viewed by logging on to the website printed on the violation notice.

SEAT BELT DECAL



As shared in previous industry Updates, New York State Law now requires all passengers to buckle up, regardless of their seat within the vehicle—including drivers and all passengers. If passengers do not wear a seat belt, a vehicle can be pulled over and adult passengers may receive a ticket.

A new Vehicle decal reminding riders to buckle up is now available. TLC Licensed Drivers can pick one up at TLC during licensing or inspection appointments, as well as via partnering fleets, bases, industry groups, and taximeter shops. Find more info about participating partners here: http://bit.ly/seatbelttlc. Thank you for helping to save lives on the road.

DRIVER PAY VICTORY

On December 22, 2020 a state appeals court upheld the TLC's driver pay rules. The rules were approved by the Commission to set a minimum pay floor for for-hire vehicle rides, or the equivalent of $17.22 an hour, and lifted the earnings of tens of thousands of drivers in New York City. This decision affirms ongoing work to ensure TLC-Licensed Drivers are paid fairly in New York City.

LOOKING FORWARD

The TLC is hopeful that the year ahead will be a better one for New York City, and the Agency looks forward to providing the best possible service to all Licensees. We wish you and your loved ones a safe, healthy and peaceful New Year.

Sincerely,
Aloysee Heredia Jarmoszuk
Commissioner and Chair
NYC Taxi and Limousine Commission
33 Beaver Street, 22ndFloor, New York, NY 10004